Welcome to the hottest Brunch in Lisbon!
Includes Live Shows, Laughs, Food and Drinks
Every Saturday and Sunday, with a duration of 2 hours per session
Up to 150 people, but during COVID

maximum of 50 guests
The show is Hosted in English, but the Queens speak Portuguese and Spanish
Get ready for full non-stop shows on stage, performances with unique choreographies, delicious food for all tastes and diets, open bar of champagne and mimosas and hosted by the iconic Portuguese Queen: Teresa al Dente!
​
Our Drag Taste Brunch is COVID-19 safe, we follow all guidelines from SNS (Portuguese National Health System) and WHO (World Health Organization). We take ours and your health safety very seriously
Experience the amazing LX Factory Market as you walk to our Drag Palace!
​
When you arrive you will be greeted with a "bottomless" glass of sparkling wine or mimosa
​
Our Drag DJ will be playing music that won't let you stop moving!
​
Help yourself to our extensive brunch buffet, full of traditional Portuguese fare and international brunch favorites
​
A Drag Host will open the Shows one stage and follow through the all brunch with comedy acts and fierceness while interacting with everyone
​
Take a seat at our banquet tables and turn your attention to our live drag performances throughout the show
​
Get ready for live Singing, unique solo Lip Sync performances, and top Choreographies we've been preparing for you all week!
​




Choose from available dates
The Drag Taste Brunch is usually sold out, we recommend to book your tickets online instead of buying them at the door
Frequently asked questions
What is the minimum age? Can I bring a baby? Do they pay?
---
Every age is welcome to the Drag Taste Brunch! Our Queens are professional and they know how to Slay and be Fierce in a artistic and respectful way! We had many babies before. And if they cry, our Drag Host will take care of it ;) Children don't pay a ticket until 5 years old. From 6 to 14, tickets cost 25 euros only.
---
Can I bring my dog?
---
Yasssss! All animals are welcome to Drag Taste!
---
Do you give refunds to your tickets?
---
Drag Taste Brunch tickets are non-refundable! Sorry, but it's our policy. Althought, if you can't come on your date, just email us at bookings@dragtaste.com and explain us the situation, we will keep your ticket for 6 months time! Or you can give it to a friend or family.
---
What if I don't speak English?
---
If you don't speak English, HOW, are you reading this? Now seriously, the Drag Taste Brunch has a Host during the all event, that will speak English. Although our Drag Host, speaks 6 languages and he interacts with everyone on the audience. But seriously, to watch the most amazing LIVE SHOW PERFORMANCES, drink Mimosas and Champagne Non-stop and eat delicious Food, you don't need to understand a thing ;)
---
What's the best way to arrive to Drag Taste? Should I drive?
---
---
Where can I park?
---
The parking inside LX Factory is free. But normally it's not easy to find a place after 12 PM. The Second option will be on the street before arriving at the LX Factory Entrance. And it's paid until 8pm on the parking tools. You can also park on the PARQUE DE ESTACIONAMENTO LUSIADAS:at Rua dos Lusíadas 5 A, 1300-365 Lisboa. Which is 4 minutes walking distance from the LX Factory door. To be easier, You watch this video we've done about how to arrive to Drag Taste, which talks about the parkings in the end: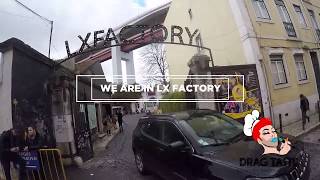 ---
---